Aquatic Underwater Bike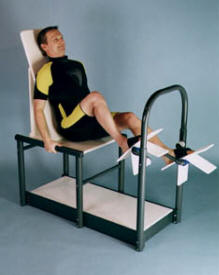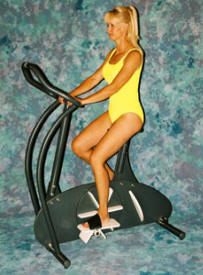 Aquatic Therapy Bike (left) & Aquatic Fitness Bike (right)
USE: Underwater cycling exercise for aquatic therapy.
FEATURES: One-size-fits-all foot pedal straps require no adjustment.
Seat slides forward and back on the Aquatic Therapy Bike and raises and lowers on the Aquatic Fitness Bike to accommodate the user's leg length. The Aquatic Therapy Bike features slanted back and head support for optimum user comfort.
Slight increases or decreases in the cycling speed of motion motion change resistance levels due to the physical properties of water.
MATERIALS: Solid thermoplastics. Fasteners are pool grade stainless steel. Fabricated entirely from non-corroding materials. These aquatic bikes require no routine or periodic maintenance.
WATER DEPTH REQUIREMENTS: Minimum water depth for usage is 42 inches (107 cm). Maximum water depth for usage is 54 inches (137 cm). Recommended water depth for most common usage is between 48 inches (122 cm) and 52 inches (132cm).
POOL AREA REQUIRED for Aquatic Therapy Bike: 62" X 24" or 157 cm X 61 cm
POOL AREA REQUIRED for Aquatic Fitness Bike: 48" X 24" or 122 cm X 61 cm
Product pricing available by submitting our Contact Information forms page.
---
Product notes: These underwater bikes feature our patented aquatic bike resistance system in use world-wide since 1994. As the manufacturer of the original paddlewheel resistance bikes since 1991, our aquatic bikes have withstood the test of time with nearly every underwater paddlewheel bike ever manufactured by us still in service.
The Aquatic Fitness Bike combines the multi-angled pedal blade resistance system with a pair of multi-bladed paddle wheels offering even, balanced resistance and making each complete pedaling cycle smooth and comfortable. Slight increases in the cycling rate of speed will dramatically increase resistance so that all users receive a beneficial exercise without the need for resistance adjustments.
Another unique design feature of the Aquatic Fitness Bike is the close proximity of the pedals to the pool floor. This feature facilitates maximum submersion of all users, allowing the buoyant effect of water to impart its greatest advantage by submerging users to the greatest depth possible. In the racing position, even the tallest of users can attain full, chest level submersion in a pool with a water depth of only 4 feet.
The bike pedals are designed for use in bare feet and the one-size-fits-all foot binders position and grip the feet safely and securely. The bike pedals on the Aquatic Therapy Bike span the full length of the feet for therapy patients who may suffer from various foot conditions requiring full support of the feet.
The Aquatic Fitness Bikes vertically adjustable seat features a highly polished surface finish which will not chafe or irritate the skin and is wear free. Other benefits and features of this system include:
* solid thermoplastic construction that is impervious to pool chemicals allowing continuous submerged use without need for any type of maintenance;
* a design which is completely safe and secure for all pool users with no sharp edges or protrusions;
* no electromechanical or electronic components which can fail quickly in the pool environment;
* pool floor protected by pads mounted on bikes base;
* simple relocation to different areas within a pool or ingress and egress to and from the pool is possible by a single person lifting the entire machine.