Aquatic Bikes & Underwater Treadmills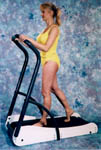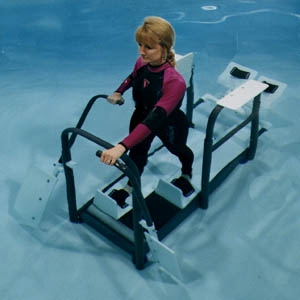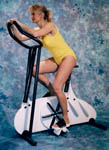 The Aquatic Therapy Source manufactures pool treadmills, aquatic underwater bikes and a full line of aquatic underwater exercise machines for professional use by hospital and clinic aquatic therapy programs.
Our business specializes in the development and manufacturing of aquatic therapy exercise equipment including under water treadmill systems, aqua bikes, pool parallel bar systems, water gyms, and other aquatic machines such as aquatic ellipticals, steppers, rowers, climbers, cross country ski exercisers, and a lateral slide board, all for use in hospital and clinic therapy pools. All of our patented aquatic exercise equipment is made by a highly skilled craftsman in the U.S.A. with domestically sourced materials.
If your health care organization is planning or already operates a therapy pool, the Aquatic Therapy Source can provide your facility with state-of-art, freestanding, pool exercise machines that will greatly increase the effectiveness of your aquatic therapy program. We are the oldest and most experienced manufacturer of aquatic under water exercise machines in the World and have been in continuous existence since 1987 pioneering this unique health care field.
Please browse the links at your left to view our products and visit our Contact Information form to request current pricing and printed brochures.
Click on any of the photos below to see an expanded view of our Aquatic Therapy Gym.
---
A Brief "Aquatic Therapy Equipment Primer" for those new to the subject is offered below.
Water, the necessary ingredient for aquatic therapy is the ideal medium in which to exercise or rehabilitate the body. Water provides an environment, which reduces body weight by 90% when standing in shoulder depth water and thereby decreases musculoskeletal stress or impact on the body.
The warm water used in aquatic therapy also reduces spasticity and relaxes, allowing individuals to move with greater mobility and less pain. Users gain the general benefits of exercise without suffering from the compressive and torque forces associated with the gravity of a dry land exercise setting.
There are many goals achieved through the use of aquatic exercise machines including: aerobic training, strength gaining and increases in endurance and flexibility. These machines allow most of these goals to be achieved simultaneously, making this type of equipment ideal for use by professional health care organizations.
There are other unique benefits derived from the use of aquatic therapy machines, such as the fact that it allows the muscles to be exercised in all directions. This is due to the fact that water resistance is 12 times greater than air resistance. The result for any specific exercise is that the muscles involved receive a more comprehensive workout and are not isolated as we find in typical dry land exercise routines. For injured athletes, use of underwater therapy equipment allows them to continue exercising while they recover from their injuries.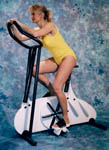 Aquatic therapy machines are also ideal for persons suffering from arthritis, acute injuries, neurological disorders and stroke victims. All users benefit from the increased confidence they feel when they are in the water free from the pull of gravity. The structure of the freestanding machinery lends users a more secure means to attain balance and coordination that is superior than just "standing in the water," with the individual attempting to wave hand held or foot attached resistance devices.
In most circumstances, the controlled movement offered by these machines is more productive and effective for aquatic therapy than hand held and foot attached devices, which is why many physical therapists chose this type of equipment as the primary treatment modality for their patients.
When evaluating freestanding underwater exercise equipment, several considerations are important to insure that the equipment will be useful and appropriate for its intended purpose.
To attain the non-weight bearing health benefit through buoyancy, which is the single most important factor in aquatic therapy, aquatic exercise machines must allow the user to be as deep in the water as the pool will allow. The goal is for the user to be at shoulder depth whether the user is standing or sitting on a machine. The chest area of the body is the single most buoyant area and should be submerged to attain the greatest benefits. If the exercise machine does not allow the user to attain this depth or the pool is too shallow, then the benefits will not be as great.
The next important factor is the mobility of the underwater exercise machine. If a pool has multiple depths or a gradually sloping surface, then the ability to quickly and easily relocate an aquatic therapy machine has great advantages for attaining the ideal buoyancy for individuals of differing height. Tall individuals will attain the greatest benefits by starting their program in deeper water appropriate to their height.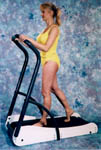 Another consideration is obstruction. Pool decks are generally accessible on all sides giving pool users easy access in and out of pools at any location. This is not only for convenience, but also for the general safety of the all pool users. Will aquatic therapy equipment restrict in any way access to a pool and does it have the potential to cause individuals to trip on any machine-associated deck fixtures? The answer is yes if the equipment relies on a deck mounting system.
Design and material considerations are also important. It is well known by experienced pool operators that the use of stainless steel in pool components does not guarantee that corrosion can be prevented from occurring. Once corrosion begins on a stainless steel component, rust colored staining on the pool floor is inevitable. Also, stainless steel plates, angles and channels used in aquatic exercise equipment can be very user "unfriendly" as they present an unnecessarily hard and thin surface area that can come in contact with users.
Thermoplastics, in comparison, will not corrode in any pool environment and properly designed, they offer broader, contoured surface edges that are friendly to touch and safer than typical stainless steel construction. Thermoplastic materials that are of equal strength to stainless steel are usually more expensive for the manufacturer to attain, but offer superior benefits.
What is unique about our products is that all of our equipment is designed to all of the above mentioned design parameters. The Aquatic Therapy Source was the original pioneering developer of freestanding, thermoplastic, underwater exercise equipment, which includes many designs for aqua treadmills and aquatic bikes, and we remain the only truly knowledgeable manufacturer offering this style of aquatic exercise equipment.
Our aquatic therapy systems are user friendly, do not require maintenance and are highly durable. The use of our equipment by professional health care organizations will assure that their patients and patrons are using the very best systems available.