Aquatic Lateral Exerciser-Skate Trainer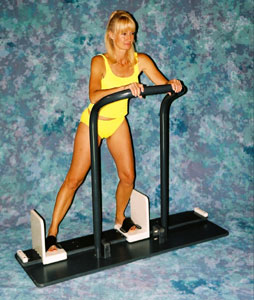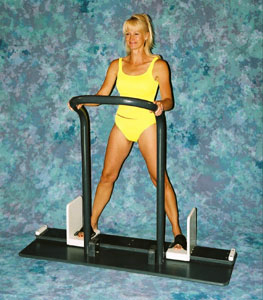 Product notes: This Lateral Exercise System offers several different highly effective motions for the lower body and mid torso region and features the unique distinguishing characteristics of a single, monolithic skate rail (patent pending), which is safe and comfortable to step on when mounting the machine. No footwear is required to operate this machine, which features broad thermoplastic edges and corners, which are safe to contact with unprotected skin.
The user determines the speed of motion of the Aquatic Lateral Exerciser by simply sliding or skating at any desired pace. The sliding skates are nearly frictionless on their track and resistance is provided by the surface area of the users body moving through the water combined with the resistance plates mounted on each side of the skates. The resistance to motion is substantially increased by the user changing their rate of sliding or skating. This resistance effect is best understood by remembering how it feels to walk in a pool at chest depth and then trying to run.
Resistance dramatically increases with only the slightest increase in the striding rate as the natural resistance offered by the water in contact with the human body is already substantial. This water resistance effect also applies equally to lateral motion or any other direction of movement in the water by the body. Other benefits and features of this system include:
* full lateral training including the ankles, knees, hips and lateral sections of the back and abdomen;
* a handlebar accommodating users of any height or body configuration;
* heavy duty foot binding straps that won't irritate the skin;
* a sliding skate track close to the pool floor allowing for chest height user submersion in pools that are only 4 feet deep;
* solid thermoplastic construction that is impervious to pool chemicals allowing continuous submerged use without need for any type of maintenance;
* a design which is completely safe and secure for all pool users with no sharp edges or protrusions;
* no electromechanical or electronic components which can fail quickly in the pool environment;
* pool floor protected by pads mounted on base;
* simple relocation to different areas within a pool or ingress and egress to and from the pool is possible by a single person lifting the entire machine.
FEATURES: One size fits all. Multiple hand hold positions. No shoes required.
MATERIALS: Solid thermoplastics on all elements. Fasteners are pool grade stainless steel. All Aquatic Therapy Source machinery is made from non-corroding materials. No maintenance required.
WATER DEPTH REQUIREMENTS: Minimum water depth for usage is 48 inches (122 cm). Maximum water depth for usage is determined by user height. Recommended water depth for most common usage is between 48 inches (122 cm) and 60 inches (152 cm).
POOL AREA REQUIRED: 61" X 24" or 155 cm X 61 cm
POOL AREA REQUIRED: 61" X 24" or 155 cm X 61 cm
Product pricing available by submitting our Contact Information forms page.