Chair for Healthcare - Zero Gravity Chair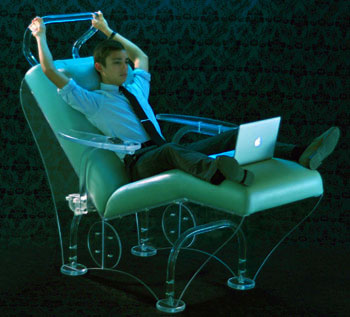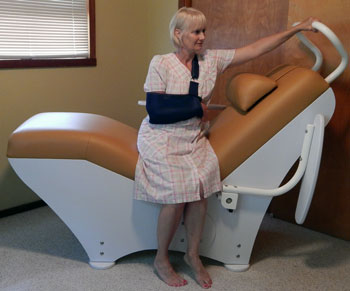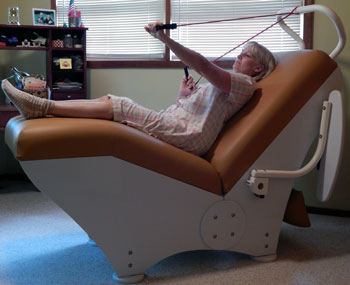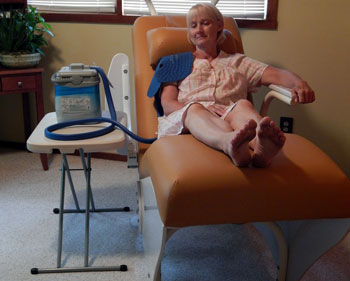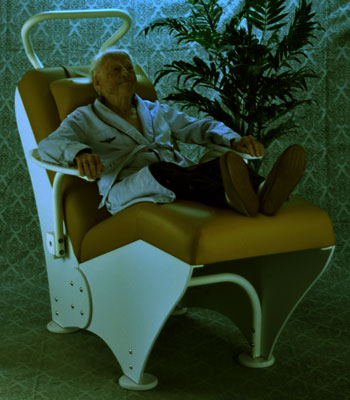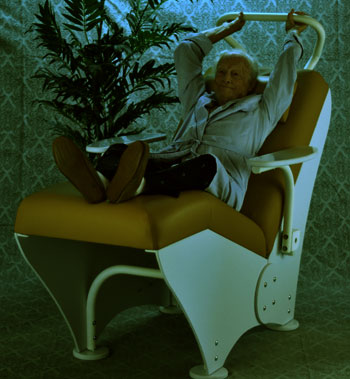 The Therapy Chaise zero gravity chair offers numerous health benefits that make you feel better and recover faster from life's stresses and strains. Among these benefits are alleviation of stress in the heart, the spinal column and back musculature. These discoveries were made by research conducted by the North American Space Administration (NASA) in determining the proper positioning for astronauts during long space flights. The Therapy Chaise closely approximates the sitting geometry discovered by NASA. Unlike other chairs, the Therapy Chaise does not offer upright or totally reclined sitting postures as these positions can lead to slouching and leaning toward the chair's sides for upright chairs and unavoidable pressure point development and improper spinal alignment in fully reclined chairs. The specific positioning offered by the Therapy Chaise prevents posture and back issues from occurring and is the single best long duration sitting position to be in whether asleep or awake. Other considerations such as proper leg elevation with a horizontal leg cushion result in increased levels of oxygen in the blood due to the heart being able to pump more efficiently without having to circulate blood around the feet that are at a lower elevation than the heart in most other chairs. The back cushion's proper shape and geometry is what takes the stress off the spinal column and all of its associated musculature, allowing for restful recovery from stresses and strains. The back cushion's shape is also adjustable to accommodate the unique requirements for each user's Lumbar area. This is accomplished through a simple hand operated adjustment system located on the back of the chair. The Therapy Chaise's back cushion has a unique patent pending upper back adjustment above the lower lumbar adjustment that alleviates pressure points associated with the two Scapula bones, allowing the Scapula to "nest" more comfortably into the cushion with less pressure than any other chair available. It should be noted that it is pressure points that typically awake us from sleep and the near total absence of pressure points in the Therapy Chaise for most users is why this chair offers the most restful sleep of any chair. Both of the back adjusters are manually operated. There are no motors or actuators nested within the cushions, no mobile hand controllers, no electrical connections….just superior design making these commonplace chair features totally unnecessary. Lastly, and referring to the photos that show the "Overhead Grab Bar™"…. this patent pending feature offered as an option for attachment to the the Therapy Chaise is a multipurpose hand grip for stretching exercises that will increase and maintain flexibility in the back, neck, shoulder and arm areas. It also functions as a hand hold to assist seniors entering and exiting the chair and as an alternate sitting posture with arms overhead, which is especially beneficial for those confined to extended sitting periods. Users with considerable experience sitting in the Therapy Chaise consider the "Overhead Grab Bar" feature a must have for their personal health and wellbeing. A properly designed chair is worth its weight in gold. When the body is given the one thing it needs most, that is, a position that relieves it from stress and allows it to heal itself most quickly, another benefit results….increased energy levels….the energy that comes naturally from your body being in an optimum state. The Therapy Chaise zero gravity chair can significantly increase your ability to reach your optimum state of health. Specifications & Additional Therapy Chaise Information Special ergonomic cushion system enables extended sitting periods and recumbent sleeping with no discomfort * Lower back cushion adjusts to occupant's special requirements for supporting the Lumbar area * Upper back cushion adjusts in shape offering relief from pressure points caused by the Scapula bones* Pillow with special geometry provides comfortable and secure support to the head and adjusts in height to accommodate children to the tallest of users * An increased seat height from the floor is safer for Seniors to enter and exit the chair * Optional arm rests prevent occupants from falling out of the chair while sleeping, operate conventionally as arm rests, may be used as a writing surface and easily rotate out-of-the-way for exiting the chair * Optional overhead grab bar enables stretching of neck, shoulder and back areas and offers a comfortable alternate sitting posture with arms overhead * Chair allows occupants to use the leg cushion as a table top for eating or laptop use * A set of recessed moving handles assist in relocating the chair and huge disc base pads protect carpet and flooring * Open chair undercarriage allows vacuuming the entire floor beneath the chair with an upright vacuum * Open gap between the leg and back cushions allow dirt to pass through to the floor with a simple push * Simulated leather fabric has pleasing appearance, superior abrasion resistance, high puncture strength and anti-bacterial resistance * Chair is made from the finest materials available * Fasteners on the chair's thermoplastic frame are stainless steel allowing the chair to withstand frequent cleaning and sanitizing without corroding * Super strong frame construction is similar to that used on our physical therapy equipment found in hospitals and clinics World-wide for the past 25 years * Artisan built by master craftsmen * Available partially assembled World-wide to your door by common carriers UPS, DHL and FedX or fully assembled by special arrangement * Assembly instructions with large photos and large type * Elegant, pleasing design with unsurpassed qualities, comprehensively engineered by one of the World's most experienced health care designers * Patent pending * Specifications: Length 68in/172cm * Cushion Width 24in/61cm * Leg Pad Width 27in/69cm * Sitting Height 22in/56cm * Overall Height 44in/112cm * Weight with Options 137lbs/62kg. Therapy Chaise Features The Therapy Chaise with its special ergonomic form and novel cushion system make possible much longer sitting periods without experiencing discomfort compared with all other chairs. This unique chair's back cushion is internally adjustable offering increased Lumbar support and also changes shape higher up the back cushion with a second adjuster that helps prevent pressure points in the upper back from causing discomfort. A pillow with a special geometric shape holds the occupant's head comfortably and securely and includes a simple pillow height adjustment system. An optional Overhead Grab Bar offers an alternative overhead arm positioning enjoyed by most users, especially those individuals confined to sitting for long periods. The Overhead Grab Bar system also enables the performance of simple stretching exercises for the neck, shoulder and back areas. An optional pair of Arm Rests prevent sleeping occupants from falling out of this chair. The Arm Rests will easily rotate up and out-of-the-way for easy exiting from the chair.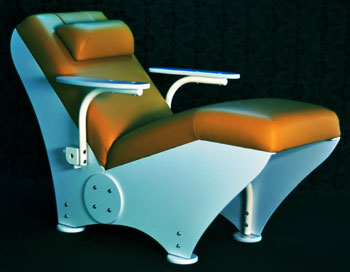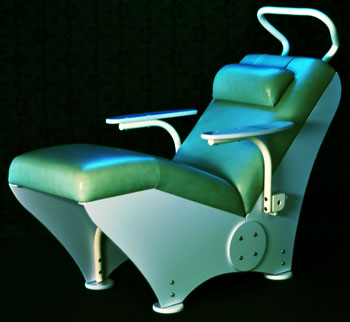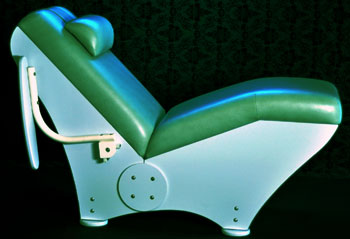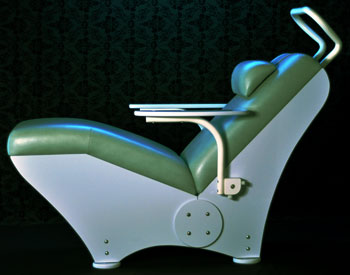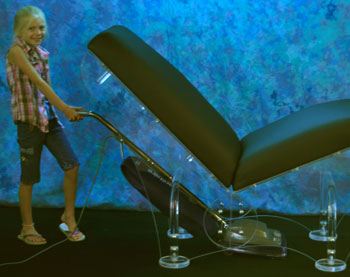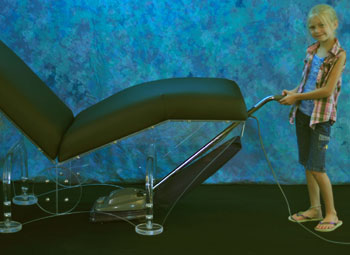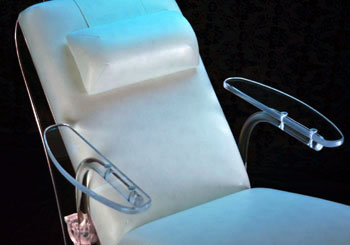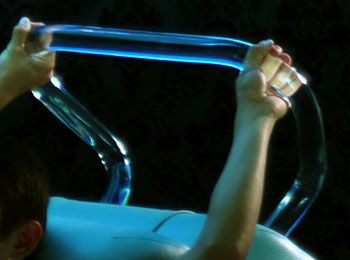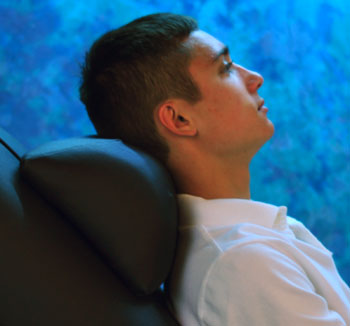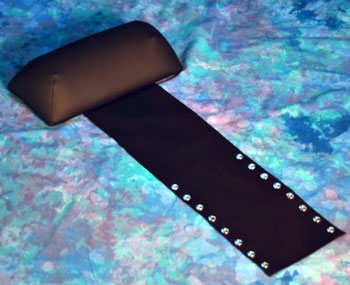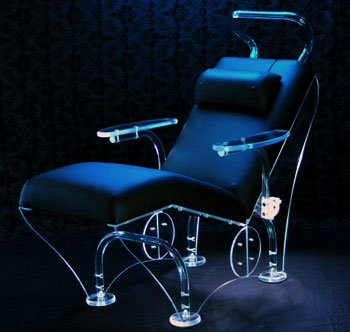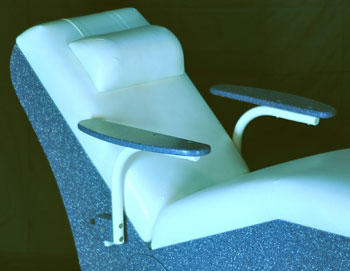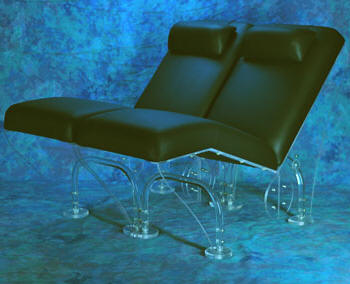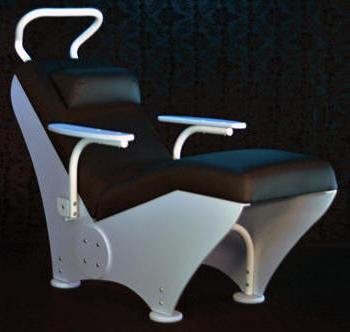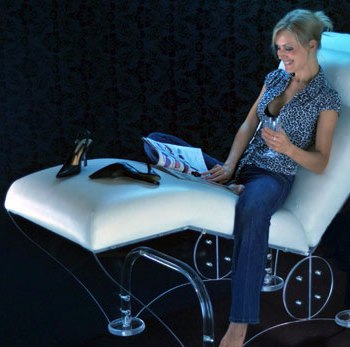 Therapy Chair Questions & Answers
Q: Are the cushions soft or hard? The back and leg cushions use a "medium firm" foam that is 5 inches or (12.7 cm) thick. The chair's form in combination with the cushions eliminate pressure points, while properly supporting the body. This results in the ability of a chair occupant to remain seated for long periods of time without experiencing discomfort.
Q: Are the cushions adjustable? The back cushion has two internal adjusters which change the shape of the cushion. A lower adjuster offers increased Lumbar support, and a higher adjuster helps eliminate pressure points in the upper back.
Q: How many seating positions are there? The chair is static with a hybrid "Chaise" style form that places the occupant in a semi-recumbent position favorable for sitting extended periods or for sleeping. This form is also known as a zero gravity chair as developed by the North American Space Administration for prolonged space flights. Use of the pillow allows the occupant to have their head in either an upright, level position, or in an incrementally increasing upward position by repositioning the head on different areas of the wedge shaped pillow. An occupant may sit straight up in the chair with legs straddling the lower cushion so that the end of the leg cushion may be used as a table for placing a food tray or a laptop computer.
Q: What is different about the Arm Rests? The Arm Rests are specifically designed for preventing a sleeping occupant from falling out of the chair. They also function as conventional Arm Rests and as writing or working surfaces. They have a unique pivoting ability, which allows the occupant to easily flip the arm rests up and out-of-the-way when the occupant needs to exit the chair.
Q: What is the purpose of the Overhead Grab Bar? This device enables the occupant to have their arms overhead, which is a very comfortable sitting position in a semi-recumbent chair. The Overhead Grab Bar also functions as a stability and anchoring device for stretching the neck, shoulders and back. This unique device is one of the many patent pending features found on our Chaise.
Q: How does the pillow work? The pillow is attached to a drape that has a series of adjustment holes so that the pillow can be positioned for length, accommodating children to the tall adults. The pillow has a unique geometric shape that contributes to user comfort including increased air circulation around the neck area as compared with tubular pillows.
Q: Can anyone assemble this chair? Most "handy" persons can assemble the Therapy Chaise or Acrylic Chaise. We recommend two persons assemble the chair together because of the size of the component pieces. The chair is supplied with a detailed set of assembly instructions in large type with clear photos. The assembly tools are provided with the chair. Each Chaise is fully assembled and inspected at our facility before it is partially disassembled for shipping.
Q: What are the limits to the chair's outdoor use? Keep the cushions covered from rain. The thermoplastic frame and stainless steel fasteners are impervious to water and will allow the chair to be set on bare ground. When exposed to direct sunlight for a period over one thousand hours, the fabric color will start to fade. If located outdoors the chair should be located out of reach of blowing rain.
Q: How durable is the fabric? There are a number of different simulated leather fabrics we use on the Chaise. They are all commercial duty fabrics with high durability ratings and are resistant to bacteria and mildew. These fabrics are made from a non-vinyl polymer that has the feel of leather with a polyester and cotton backing. These fabrics are used by airlines and by major health care institutions.
Q: How is a fabric color chosen? A color is chosen by using one of our fabric color charts. Our online color chart is representative of the range of colors available for covering the Chaise cushions. Our color charts are forwarded with our printed brochures or emailed depending on the circumstance.
Q: How quickly can a Chaise be shipped? That depends on the number of orders we have to fill at any one time, but generally between 30-45 days.
Q: How are the chairs shipped? The chairs ship to most locations World-wide that are served by UPS, DHL or FedX. If one of these common carriers does not ship to the purchaser's location, the chair(s) can be shipped to the purchaser's closest international airport terminal for pickup by the purchaser. Large commercial orders ship by motor freight, not by common carrier and are assembled on site.
Q: Who sells the Acrylic Chaise and Therapy Chaise? The manufacturer is a direct seller of its products World-wide. All interested purchasers may introduce themselves to the manufacturer by completing the Contact form found on this website. All initial contacts with the manufacturer must be initiated through this web form. We require that you have a working email address in order to receive correspondence from us.
Below are the Therapy Chaise fabric color selections. Our fabric is a simulated, commercial duty, non-vinyl leather for covering the cushions on the Therapy Chaise. This fabric is popular with hospitals for its durability and exceptional look and is extensively used by airlines for plane seating. We only use certified fabrics that have passed VOC emissions tests and are free of PVC, chlorine, bromine, plasticizers and heavy metals.
Therapy Chaise frame color selections below. This non-breakable, FDA approved thermoplastic is used to make the chair's side frame panels. The clear sides shown in the photos above is acrylic.
For Brochure & Pricing please submit the Contact Form Page.