Aquatic Stepper - Underwater Stair Climber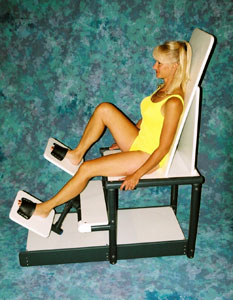 USE: Our aquatic stepper - pool stair climber machine provides a recumbent stepping or leg press exercise for aquatic therapy. It is also used as an ankle rotator for aquatic rehabilitation where the foot resistance elements can assist in rolling the ankles.
FEATURES: One-size-fits-all foot binding straps require no adjustment. Seat slides forward and back to accommodate user length and features slanted back and head support for optimum user comfort. Slight increases in speed of use raise resistance level due the water's physical properties.
MATERIALS: Solid thermoplastics. All fasteners are pool grade stainless steel. All Aquatic Therapy Source machinery is made from non-corroding materials. No maintenance required.
WATER DEPTH REQUIREMENTS: Minimum water depth for usage is 42 inches (107 cm). Maximum water depth for usage is 54 inches (137 cm). Recommended water depth for most common usage is between 48 inches (122 cm) and 52 inches (132cm).
POOL AREA REQUIRED: 56" X 29" or 142 cm X 74 cm
Product pricing available by submitting our Contact Information forms page.