Aquatic Therapy Gym - Pool Gym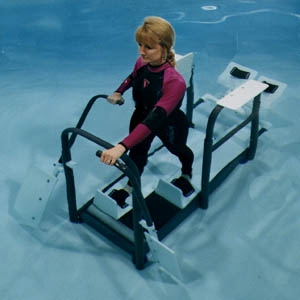 Photos below show the different configurations of the Aquatic Therapy Gym.
Aquatic Leg Cycling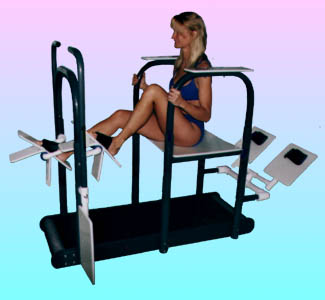 Aquatic Treadmill Walking or Back Stepping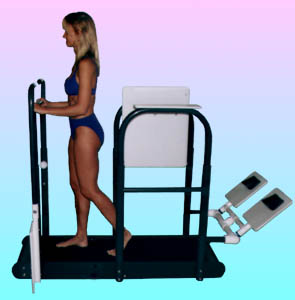 Aquatic Cross-Country Ski Exercise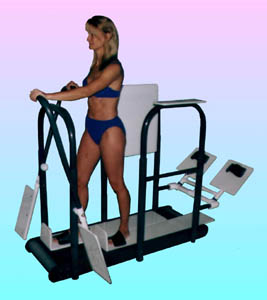 Aquatic Stair Climbing or Leg Press Exercise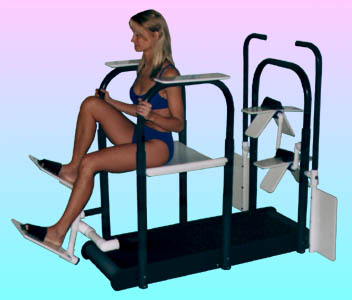 Aquatic Rowing, Pressing and Pulling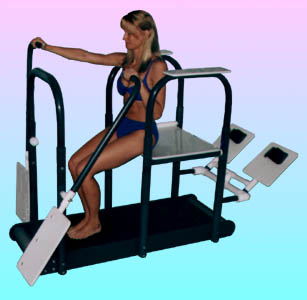 Aquatic Abdominal Crunches, Back Curls & Dips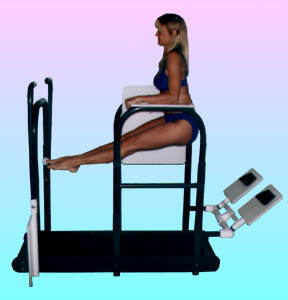 Aquatic Arm, Chest & Shoulder Exercises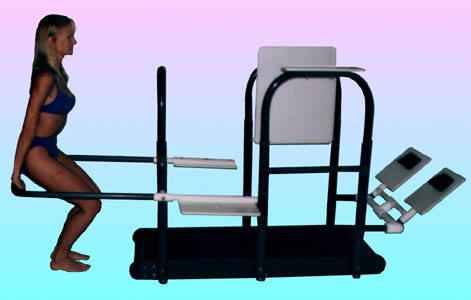 The Aquatic Therapy Gym is a compact, multi-station, all inclusive, underwater exercise gym that will perform over thirty different exercise routines when submerged in water including all of the popular land based machine exercises. The base of the Therapy Gym is an aquatic treadmill.
The Aquatic Therapy Gym is also used for strength gaining and for increasing endurance and flexibility.
As an aquatic therapy device the Aquatic Therapy Gym can increase the program capabilities of clinicians practicing aquatic therapies.
By providing balance and stabilization, together with controlled movement in a stationary position, the clinician can significantly increase the quality of motion performance by their patients.
Resistance levels are determined by the speed of motion the user engages the resistance elements. Slight increases in speed dramatically increase the resistance due to the waters physical property of viscosity.
Equipment adjustment is limited to swinging the seat into an up or down position or placing skis on the feet.
Broad, contoured surfaces, with rounded edges make the Aquatic Therapy Gym friendly to touch.
The Aquatic Therapy Gym allows simultaneous use by two persons for a number of exercise combinations.
The Aquatic Therapy Gym will not corrode and can be used in salt water or pools with high sanitizer levels. It may be left in water indefinitely or removed by one or two persons to poolside.
The Aquatic Therapy Gym may be easily moved around the interior of a pool by a single person. It has a weight of under fifty pounds when it is submerged at a depth of four feet.
PATENTS: The Aquatic Therapy Gym and all functional divisions of the Aquatic Therapy Gym are protected by U.S. and other International patents.
MATERIALS: Heavy duty thermoplastic materials and stainless steel fasteners. Pool floor protected by soft pads attached to the underside of the machine.
Pool Water Depth Recommendation
Minimum Water Depth: (48 in.) (122 cm).
Maximum Water Depth: (60 in.) (152 cm).
Pool space required for use: 84" (213 cm) X 42" (107 cm)
Product pricing available by submitting our Contact Information forms page.
Click on any of the photos below to see an expanded view of our Aquatic Therapy Gym.