Aquatic Ski Machine Leg & Arm Exerciser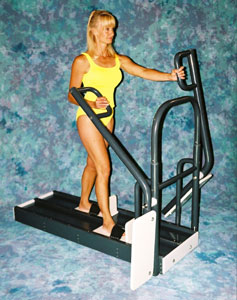 USE: Aquatic cross country ski exercise for aquatic fitness and therapy. Also a sliding leg exercise without use of the oar (ski) poles. Oars may be used independently from the front of the machine for upper body exercises such as rowing, pressing and pulling, curls, triceps and forearm work.
FEATURES: One-size-fits-all foot binding straps require no adjustment. Oar handles may be grabbed horizontally or vertically. Skis are independent of each other offering realistic ski type simulation.
MATERIALS: Solid thermoplastics on all elements. Fasteners are pool grade stainless steel. All Aquatic Therapy Source machinery is made from non-corroding materials. The aquatic ski machine requires no maintenance.
WATER DEPTH REQUIREMENTS: Minimum water depth for usage is 42 inches (107 cm). Maximum water depth for usage is determined by user height. Recommended water depth for most common usage is between 48 inches (122 cm) and 60 inches (152 cm).
POOL AREA REQUIRED: 72" X 46" or 183 cm X 117 cm
Product pricing available by submitting our Contact Information forms page.