Aquatic Treadmills - Pool Treadmill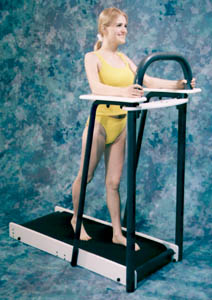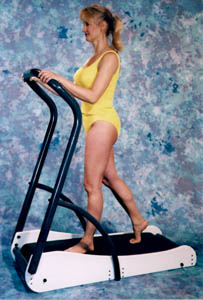 Aquatic Therapy Treadmill (above left) & Aquatic Fitness Treadmill (above right)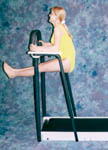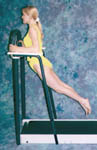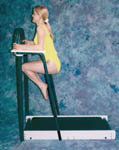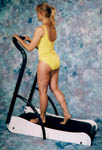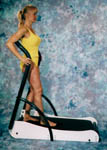 Aquatic pool treadmills are used for walking and back stepping to attain fast and beneficial aquatic therapy results. The unique handlebar system on the Aquatic Therapy Treadmill is a set of pool parallel bars used for abdominal crunches, back curls, dips and knee raises. The handlebar on the Aquatic Fitness Treadmill (photos on right), allow the user multiple hand positioning.
FEATURES: A patented non-motorized, neutral friction treadmill belt responds to the user's walking pace and stops immediately when the user stops walking. A non-sloping deck on the Aquatic Therapy Treadmill helps keep users deeper in the water for obtaining maximum non-weight bearing effect. No shoes are required to use either of these aqua treadmills.
MATERIALS: Solid thermoplastics on all elements. The fasteners are pool grade stainless steel. All of the water treadmills are made from non-corroding materials. No daily or periodic maintenance required and no service calls will ever be required to keep these under water treadmill systems operational for the life of your pool.
WATER DEPTH REQUIREMENTS: Minimum water depth for usage is 48 inches (122 cm). Maximum water depth for usage is determined by user height. Recommended water depth for most common usage is between 48 inches (122 cm) and 60 inches (152 cm).
POOL AREA REQUIRED: 50" X 24" or 127 cm X 61 cm
Product pricing available by submitting our Contact Information forms page.
---
Product notes: These two patented underwater treadmill systems have been in use World-wide since 1994, and both feature the unique distinguishing characteristic of a flat, non-motorized walking deck in combination with a near frictionless walking belt that is engaged by the user without the need for footwear.
The use of this system offers equal resistance in both phases of the walking gate, which is only possible with the unique combination of elements offered by these two aquatic treadmill systems, which include a near frictionless interface of the walking deck with the walking belt, combined with the belts unique ability to grab the underside of a users foot to propel the walking belt along its path.
The user determines the walking belt speed of these aquatic treadmills by simply walking or running at any desired pace. The walking belt reacts exactly to the input it receives from the users feet. Resistance is provided by the surface area of the users body moving through the water and this resistance is substantially increased by slight increases in walking pace. This effect is best understood by remembering how it feels to walk in a pool at chest depth and then trying to run. Resistance dramatically increases with only the slightest increase in the striding rate as the natural resistance offered by the water in contact with the human body is already substantial. Other benefits and features of this system include:
* solid thermoplastic construction that is impervious to pool chemicals allowing continuous submerged use without need for any type of maintenance;
* a design which is completely safe and secure for all pool users with no sharp edges or protrusions;
* no electromechanical or electronic components which can fail quickly in the pool environment;
* no rollers to cause injury to the bottom of bare feet;
* no treadmill belt tracking adjustments or mechanism needed as the patented belt system is self tracking;
* pool floor protected by pads mounted on treadmill base;
* a walking deck close to the pool floor allowing for chest height user submersion in pools that are only 4 feet deep;
* simple relocation to different areas within a pool or ingress and egress to and from the pool is possible by a single person lifting the entire machine;
* allows forward or reverse actuation of the pool treadmill belt including back stepping or retro walking and a unique back and abdominal strengthening exercise.