Aquatic Parallel Bars & Water Exercise Chair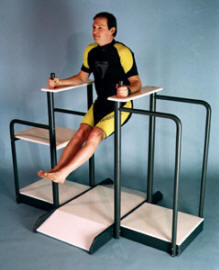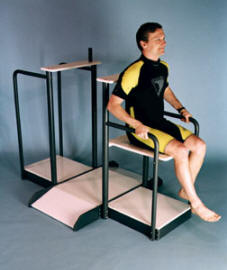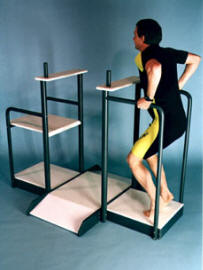 The Aquatic Underwater Parallel Bars facilitate the very best abdominal and back strengthening exercises. They are also used for knee raises, dips, hip rotations and many seated exercises for aquatic therapy. The different configurations of horizontal and vertical hand railings help attain user balance and stabilization for many exercise movements. These pool parallel bars are better utilized than standard pool hand railings and include a pool chair for seated aquatic exercises.
FEATURES: One size fits all. No adjustments. Forearm pads with hand grips for user comfort and stabilization. Exercise seat with hand railings. Horizontal and vertical dip bars.
MATERIALS: Solid thermoplastics on all elements. Fasteners are pool grade stainless steel. All Aquatic Therapy Source machinery is made from non-corroding materials. No required maintenance.
WATER DEPTH REQUIREMENTS: Minimum water depth for usage is 42 inches (107 cm). Maximum water depth for usage is 60 inches (152 cm). Recommended water depth for most common usage is between 48 inches (122 cm) and 54 inches (137 cm).
POOL AREA REQUIRED: 90" X 60" or 229 cm X 152 cm
Product pricing available by submitting our Contact Information forms page.