Aquatic Elliptical - Pool Elliptical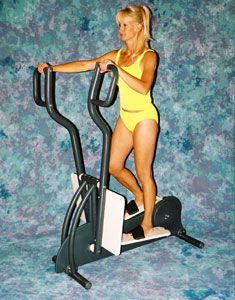 Aquatic Ellipticals are used for underwater elliptical motion leg exercises coupled with an upper body rowing style motion that is beneficial for the rehabilitation of many health related conditions. The Pool Elliptical featured here is used in hospital and clinic programs World-wide and this water elliptical has the reputation of being the most user friendly aqua elliptical available, just like our pool bikes and aquatic treadmills.
FEATURES: The resistance system for this machine features multiple planes-of-motion for even, balanced resistance since the foot pedals and arm pole resistance plates are tied together in their mechanical motion.
The elliptical motion mechanism offers arm exercise poles that may be grasped at different heights and positions that accommodate individual user size and variable water depths.
Slight increases in the elliptical cycling motion and arm rowing speed increases resistance levels due the physical properties of water.
MATERIALS: Solid thermoplastics. Fasteners are pool grade stainless steel. This underwater elliptical is made from non-corroding materials. No maintenance required.
WATER DEPTH REQUIREMENTS: Minimum water depth for usage is 48 inches (122 cm). Maximum water depth for usage is determined by user height. Recommended water depth for most common usage is between 48 inches (122 cm) and 62 inches (157 cm).
POOL AREA REQUIRED: 48" X 24" or 122 cm X 61 cm
Product pricing available by submitting our Contact Information forms page.
---
Product notes: This patented elliptical motion machine is unique in being the World's first aquatic elliptical motion machine and offers the same popular elliptical motion found in dry land machinery, but adapted for aquatic use.
The Aquatic Elliptical Trainer features an upper body reciprocating exerciser with resistance surfaces that are engaged simultaneously with the elliptical leg exercise.
Elliptical motion can be understood to represent that motion midway between walking on a treadmill and pedaling a bike. With simultaneous use of the upper body exerciser, the Aquatic Elliptical Trainer offers a total body workout with the additional health advantages offered by the buoyancy and hydrostatic pressure of water when the machine is submerged for chest deep usage.
The Aquatic Elliptical Trainers foot anchoring system is designed for use without the need for footwear of any type. The one-size-fits-all foot binding straps maintain the user in a comfortable and secure position.
Each foot pedaling plate is part of a double sided water resistance surface, which together with the users legs moving through the water, offers resistance to motion. Slight increases in the rate of machine engagement by the user dramatically increases resistance so that all users will receive beneficial exercise without the need for adjusting any resistance surfaces. Other benefits and features include:
* solid thermoplastic construction that is impervious to pool chemicals allowing continuous submerged use without the need for any type of maintenance;
* a design which is completely safe and secure for all pool users with no sharp edges or protrusions;
* no complex electromechanical or electronic components which can fail quickly in the pool environment;
* pool floor protected by pads mounted on machines base;
* simple relocation to different areas within a pool or ingress and egress to and from the pool is possible by a single person lifting the pool elliptical.