About the Aquatic Therapy Source
The Aquatic Therapy Source has been a manufacturer of freestanding aquatic exercise machines since 1987. The Aquatic Therapy Source is dedicated to the emerging science of water exercise for physical therapy and maintains the distinction of being the top research and product developer of institutional quality aquatic therapy systems.
The Aquatic Therapy Source manufactures every piece of equipment as a "made for order" item, with knowledge of the purchasing customer's unique requirements including pool water depth and pool surface material. All products are fabricated by a skilled craftsman and sold direct from our factory in the USA.
The Aquatic Therapy Source was the first company to pioneer the manufacture of freestanding, thermoplastic, underwater exercise machines. The aquatic machinery designed by the Aquatic Therapy Source will not corrode or break down in water, does not require any maintenance and requires no special footwear to use the machines.
As the leading designer and manufacturer of aquatic exercise equipment with numerous patent claims, both U.S. and International, the Aquatic Therapy Source has made many significant advances in this field including the following:
*First aquatic treadmill (1994), that does not rely on gravity, rollers or a motor to operate. This patented, nearly frictionless treadmill is the only system available that offers equal resistance in both phases of the walking gait and never requires belt tracking adjustment or any type of maintenance;
*first aquatic bike for physical therapy (1991), including the unique features of gearless paddlewheel resistance, and chest depth submergence of the user in only 4 feet of water;
*first aquatic gym (1994), that incorporates a treadmill and leg cycling bike together in the same compact frame, the frame structure also including a cross country ski exerciser, recumbent stair stepper, rowing oars, parallel bars and a folding underwater seat;
*first recumbent position aquatic exercise bike and pool deck mounted aquatic bike (1991);
*first aquatic elliptical motion exercise machine;
*only manufacturer to produce three different lines of aquatic exercise equipment including freestanding stainless steel equipment (1991), deck mounted stainless steel and thermoplastic exercise equipment (1991), and freestanding thermoplastic exercise equipment (1994).
Photo: See-Thru Therapy Pool designed and built in 1990 by the Aquatic Therapy Source showing some of our early equipment. This photo was taken with a wide angle lens at a very close range making the pool appear to bend. We do not offer this pool system for sale.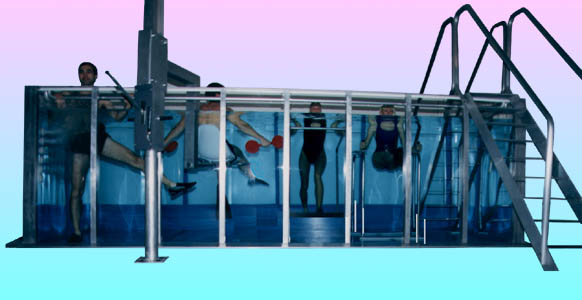 Photos: The Micro Therapy Pool is an institutional quality aquatic exercise and therapy system for use in a limited space. We do not offer this pool for sale.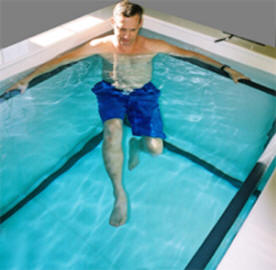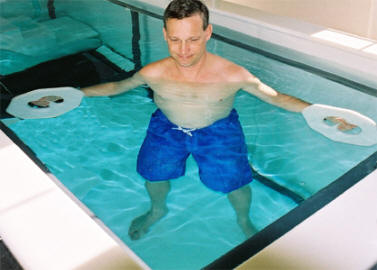 The Micro Therapy Pool is equipped with horizontal and vertical handlebars located around the inside perimeter of the pool that provide a means for attaining stability and balance and well as a secure base for performing exercises requiring a hand hold.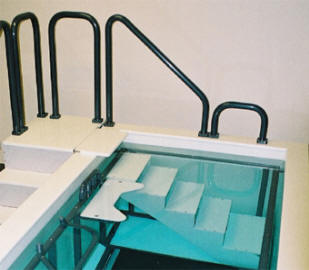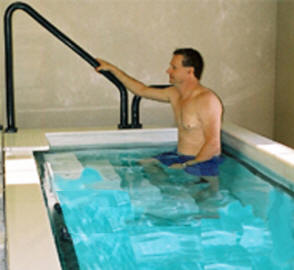 The Micro Therapy Pool is equipped with institutional quality access stairs and hand railings so that users can enter and exit the pool safely. We do not offer this pool system for sale.